Estate Sales
Cait's Estate Sales:  What is an estate sale and what to expect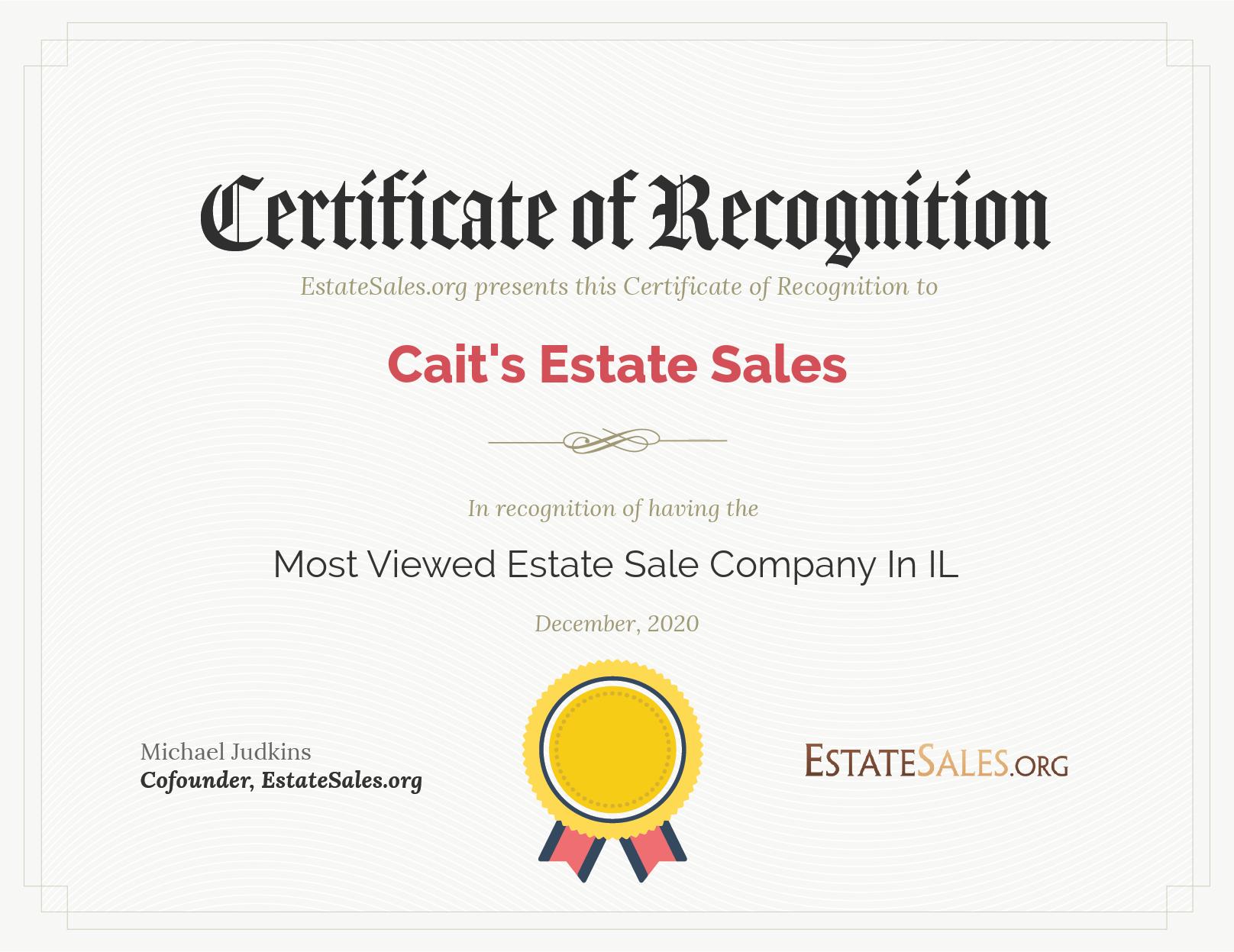 An Estate Sale is a way of liquidating the belongings of a family or an estate.  These are not garage or yard sales but much more sophisticated from of liquidating a large portion on an estate.  Estate Sales are used when someone needs a way to sell items due to downsizing, moving, divorce, bankruptcy or death.  The public is invited into the home and given the opportunity to purchase any item that is priced for sale.  Many times, there are items that are not for sale because the family has decided not to part with some belongings or those items are contracted by the new homeowners.  These items are marked NOT FOR SALE (or NFS) and placed in rooms (if applicable) that are off limit to the public.  
We use the First Come, First Serve policy.  A line is formed at the door of the home where the sale is taking place.  Lines may start several hours before the sale opens.  
Estate Sale Etiquette:  Cait's Estate Sales will post sign up sheets onto front door prior to the beginning of the sale.  We may also allow a self started sign up sheet that is to be transferred to our sheet, a couple hours before the sale begins.  We reserve the right to refuse this sheet and only will consider it if the following procedures are followed:  
-  The person who starts the sheet, is the same person who gives it to a Cait's staff member. 
-  That same person has monitored and allowed everyone to access their sheet. 
-  There is only (1) verified sheet.  
Cait's does not allow pre-sales.  Generally all items that are advertised will be in the home when the sale begins..  The rare exception to this is when the homeowner has removed the item from the sale.  Our contracts require that this is not the case, however it occasionally does happen.
Purchasing items from our Estate Sale:  While an attempt is made to tag and price all items, occasionally an item is missed.  Please see a Cait's Representative to pricing detail.  Friday pricing will remain relatively firm with Saturday being a discount day.  Many of the sought after items will be purchased on Friday so if you see an item you like, purchase it!  
Once your items are selected, you can have Cait's tag your item if it is too large to carry or take your items to the cash register (typically by the front door of the home).  If you do tag a larger item, it must be purchased within a timely manner.  
All items are to be removed from the sale by the end of the sale date.  While we try to help you in any way we can, you must bring help to remove items from the home.  Cait's does provide delivery services for those items that you cannot pick up.  There will be an additional fee for the delivery of the item.  
Other services available from Cait's:  Clean out service after an estate sale, consignment of items at our Mokena warehouse for items that many not have sold at an estate sale, real estate for your home and construction services.